Conference on »A Civil Society Outreach: Economic Governance - Social Justice«
17th – 19th November 2015 in Berlin
Federal Foreign Office (Europasaal)

General Information
Who: 100+ representatives of Arab Civil Societies plus representatives of International Financial Institutions, International Organisations, G7 governments and the Deauville Partner Countries
What: Discussing the future role of civil society actors in economic governance and social justice especially within the framework of the Deauville Partnership
Goal: Adopt a set of guidelines that are to be handed over to the German presidency of the G7 and the Deauville Partnership
Where: Federal Foreign Office, Berlin
When: 17th – 19th November 2015
Practical information
Arrival and access to the Ministry of Foreign Affairs (Auswärtiges Amt)
The conference entrance for access to the conference facilities (Europasaal) is at Unterwasserstraße 10 (see map below). Please note that parking is not available at this entrance. Registration starts on November 18th, 2015 at 09:00 am.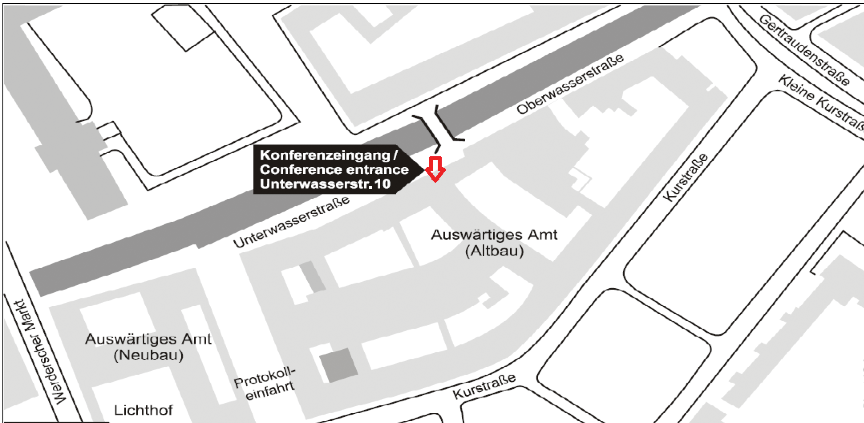 Security
There will be a mandatory security check for all external guests. Therefore, all guests are asked to present a photo ID for identification. For security reasons, please refrain from bringing large bags.
Smoking
Smoking is forbidden inside the whole building. Smokers must leave the conference facilities.
Portable electronic devices
The use of portable electronic devices (mobile phones, tablets or laptops) is generally allowed in the conference area. Please refrain from talking on your mobile phone during conference sessions.
Internet
Wireless internet access is provided in the conference area.
Prayer Room / Room of silence
A prayer room / Room of silence close to the conference facilities (Room no. 1.1.32) is available.
Interpretation
English and Arabic (simultaneously)