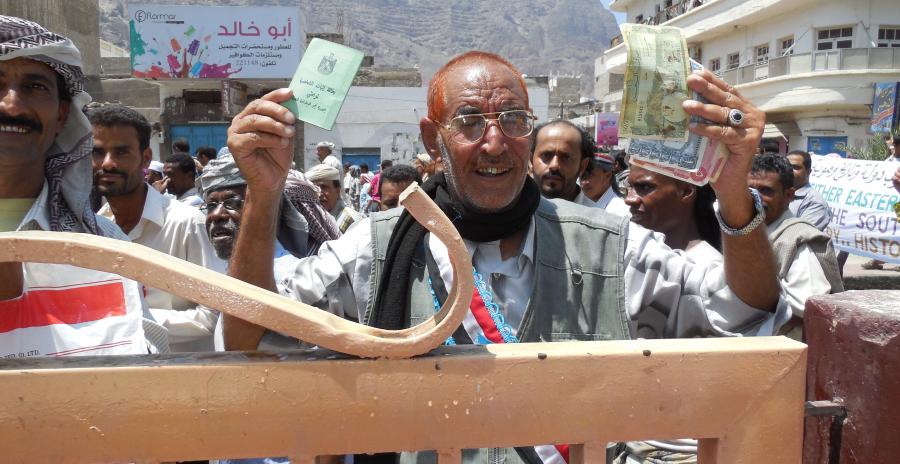 Supporters of the »Southern Movement« stage a protest in the Yemeni port city of Aden, Photo: Anne-Linda-Amira Augustin
Yemen entered the »Deauville Partnership« after it embarked on a path to transition that saw long-time president Ali Abdullah Saleh seemingly removed from power in spring 2012. The Riyadh Accords, followed by the »National Dialogue Conference« and the election of Abd Rabbo Mansour Hadi as Saleh's successor were hailed as a major diplomatic breakthrough under the auspices of the Gulf Cooperation Council (GCC).
As of 2015, the former strongman has shown how much he is willing to cling on to power, as Saleh allied himself with the Zaidi Shiite Houthi movement he had previously fought in multiple wars. During his reign, Saleh had employed a tactic to secure international funding that built on the impending danger of state decay and terrorist takeover while at the same nurturing these very same destructive currents as political tools.
The failure to fully sideline Saleh and the culture of nepotism obstructed Yemen's struggle for transition as much as the eventual eclipse of civil activism and representation. The readiness among the traditional political stakeholders to secure their interests with the power of arms transcended any ground for compromise.
Being the Arab World's poorest country, Yemen's structural problems did not only limit the scope for economic growth, but created a serious humanitarian crisis. Perspectives for Yemen hit rock bottom in 2015, when Saudi Arabia spearheaded an ill-planned campaign to fight the Houthis who themselves had opted for a violent power grab.
Yemen is a battleground where the stated goals of the »Deauville Partnership« initiative clash with the prerogatives of GCC neighborhood policy. If a truce is negotiated, international reconstruction efforts should focus on the fiercely contested and partly destroyed port town of Aden: A restart of hydrocarbon production and transport could build a basis for revenue. Nonetheless, as humanitarian needs are the primary concern for nearly half of Yemen's population, the foundations for shared wealth, jobs and sound financial governance are slim for the foreseeable future.